Date/Time
Date(s) - 06/06/2019
4:30 pm - 5:30 pm
Location
TBD
Categories
Members Only CFO Strategy Session
hosted by 
The Charlotte CFO Leadership Council
Thursday, June 6, 2019
4:30 PM – 5:30 PM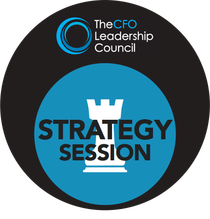 Program Description:
The Charlotte CFO Leadership Council is pleased to present our Q219 Members Only CFO Strategy Session preceding our "Economic Outlook & Tax Reform Impact" Panel Discussion and Closing Reception on Thursday, June 6, 2018 (CPE credits apply).  This strategy session will feature tables of 6 – 10 members with a facilitator.
The "Driving Question" for this session is the following, and this will be our starting point to move into further discussion on this and other areas affecting or assisting with meeting our strategic goals:
What is your current challenge to obtaining your most important strategic objective?  How are you keeping up with technological and software changes, the "cloud," etc.?  Is dealing with the change in the work style of the newer "millennial generation" an issue for you?  If so, what specifically are you having to address or adapt to and how are you doing it?  How are these fundamental changes (or others) impacting your role, your company, your industry?
In this session you will learn how to:
Provide a forum for interaction between CFOs on a related topic
Develop feedback and recommendations to assist CFOs to further their growth in their current environment
Share leadership experience and wisdom with colleagues
Facilitate deeper learning and understanding of the topic through discussion with peers
Develop recommendations for CFOs to change and enhance their company's strategic plan